The Garsnes Experience
There's a lot more to our region than what meets the eye. Still, what meets the eye is pretty awesome. Garsnes is surrounded by nature, with the Lifjell mountains touching the sky behind us, and the fjord of Sagfjorden allowing for an incredible view of the Northern lights and the midnight sun.



The unrivaled beauty of the summer sun that doesn't set; it can't be overstated. Garsnes Brygge is among the ground-level locations in the region where the midnight sun is visible for most of the summer.
For most of the winter, our guests are able to witness one of nature's wonders. The Aurora Borealis, or Northern Lights, will light up the sky above you.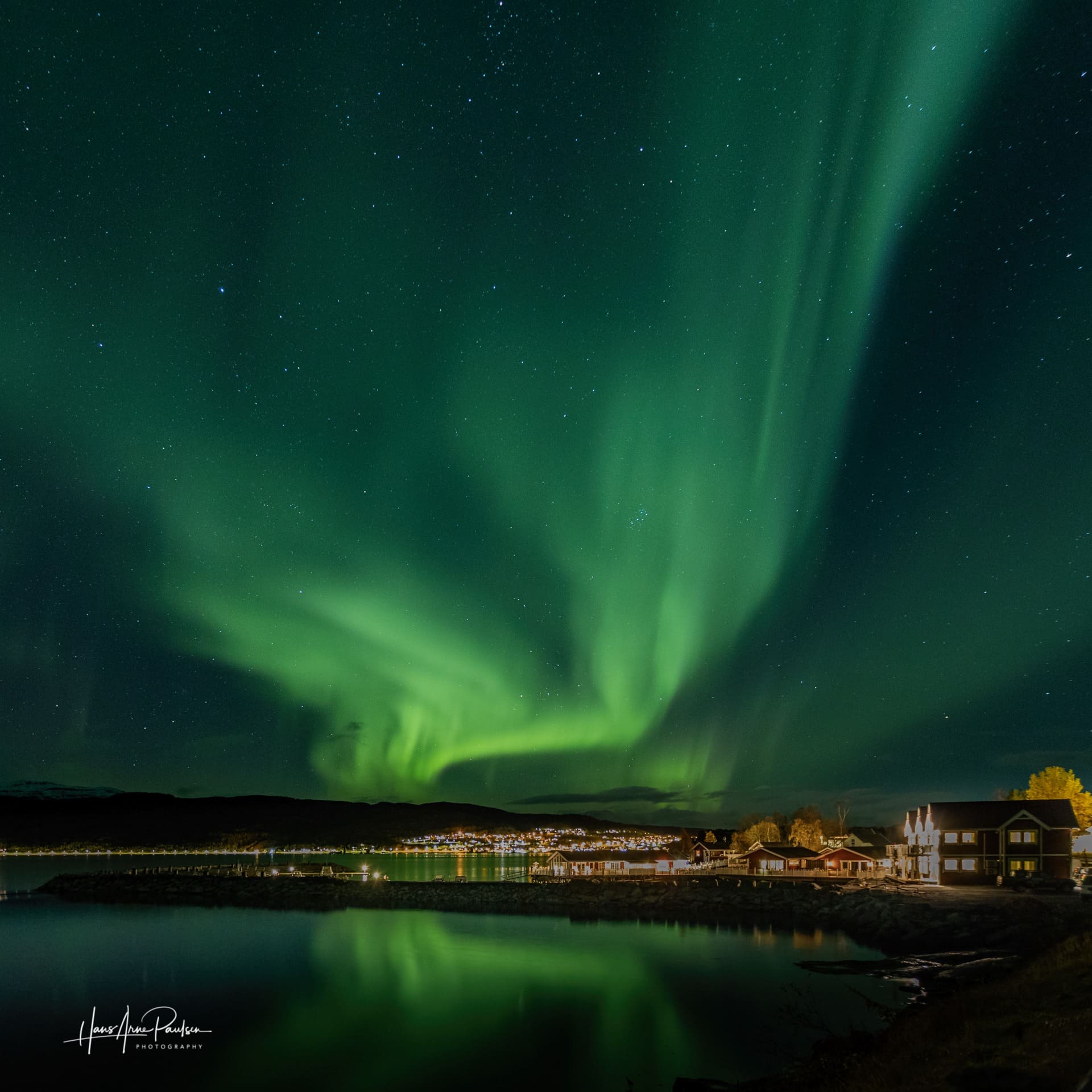 Experience the
Northern Lights
Our partner, Hendrik Anne Zwart, is ready to help you find the most beautiful views of the Northern Lights, and also offers landscape photography lessons.
Stay with us
Book a Room
We offer apartments and cottages with two and three bedrooms, fully equiped kitchen, TV, internet, a balcony with outdoor seating and incredible views.
Camp with us
Camp Spot
Need a place to camp? We're looking forward to hosting you. All bookings include basic amenities such as restrooms and showers. Power is available.
Garsnes is located along the tiny one-lane County Road 7810. Continue down this one-lane road and follow the coast towards the tiny village of Lavangsnes, about 1 hour from Garsnes by bike.
Make use of the ocean that's hitting our doorstep. Rent a fully equipped boat and take a day fishing, visit nearby islands, go sightseeing, and enjoy the sun.
Rent a
Bike
Make use of the beautiful scenic ride down County Road 7810 towards Lavangsnes, or take a trip to the local village of Sjøvegan.
Take a
Spa Bath
Enjoy a winter evening with clear skies and look at the stars, or watch the midnight sun in the summer, while relaxing in our jacuzzi for up to 7 people.
Rent a
Boat
Our 19ft daycruiser is perfect for a day on the ocean. Go fishing in the Sagfjord or do some sightseeing. Ask us for some advice at pickup.
Several of our facilities are open to the public at no charge. Garsnes Camping features a small beach and an attachede bonfire area, with bike racks and other amenities. Our pier also features a dock reserved for fishing from land, also available at no charge.
Polar Park, located in neighboring Bardu municipality, about 40 minutes drive from Garsnes, is the world's northernmost animal park and home to Norway's large predators such as bears, wolves, and lynx as well as deer, moose, reindeer and muskox.
Polar Park places great emphasis on animal welfare. That's why they give their animals large areas to create a habitat as natural as possible.
Our partner, Fjellkysten, based in our neighboring municipality of Lavangen, offers guided caving tours in the Sagelva caves. These caves have developed over tens of thousands of years and is the longest cave system in Northern Norway. 
Get a tour of the
Caves
Experience a guided tour like few others with our partner, Fjellkysten. Available from June through March.
Visit
Polar Park
Plan your day at Polar Park and purchase tickets in advance through the park's website. 
Go hiking
Salangen municipality and the rest of the region is packed with hiking trails. Ask us for some advice on your arrival and we're happy to give you directions.
Go skiing
Multiple mountains nearby have tracks for skiing and are used frequently. The neighboring municipality of Bardu has a downhill skiing facility. Ask us for advice on arrival.
Visit nearby museums
Our region has several museums, showcasing the facinating history of small villages in Northern-Norway. The village of Sjøvegan has a museum open during the summer season.
Scenic drives
Several scenic drives with limited traffic are to be found throughout the region, primarily surrounding the Astafjord. Garsnes is situated on the scenic County Road 7810.
Our municipal center of Sjøvegan
Welcome to Sjøvegan. Salangen's largest village and one of the few business centers in the surrounding area. 
The Millionfisken festival
Millionfisken, literally translated to the Million Fish, is an annual fishing contest held in the Sagfjord. It's the busyest time of your for the local business community. The festival welcomes attendees from around the country and indeed the world.
Sjøvegan offers everything you need of food, supplies, gas, and more. The local mall features six stores, including two local independent shops; a textile store and clothing store.
The local coffee shop, Kåre Maloney, is open daily and features a vintage-style environment. It's a must-visit local gem.
Groceries
The local village houses two grocery store chains; Rema 1000 and Coop Extra. 
Pharmacy
Apotek 1 is located in the local Strandsenteret mall and is open Monday through Saturday. 
Cafes & Take-away
Mazhar Mathus offers both dine-in and take-away, and serves various lunch dishes, pizza, hamburgers, and kebab. A Thai take-away food truck is also located downtown.
Clothing
Kleo, a local independently owned clothing store, is located at Strandsentered and is open Monday through Saturday.
Flowers
Anitas Blomster is located downtown and is open Monday through Saturday.
Textiles & Interior
Z Interiør AS is located at Strandsentered mall and is open Monday through Saturday.
"Everything"
Maxi Miljø is located downtown and sells everything from toys to hardware. Open Monday through Saturday.
Much more
Find a complete list of businesses at Sjøvegan.no.
The Nature of Northern Norway
Welcome to Garsnes
We're looking forward to welcoming you to our little retreet and this amazing region of Northern-Norway
Garsnes Brygge
Address
Lavangsnesveien 231, 9350 Sjøvegan
Norway
Coordinates
68°52'10.1"N 17°46'09.3"E